You already know that Swift Charters is the answer to all of your transportation-related questions such as "What's the best bus company in Chicago?" / "Where to find a charter bus in the area?" / "How to book a long bus ride for groups?" and similar. Well, since you're familiar with the always fantastic bus charter services that you can book for various different occasions, why not take a couple of minutes to read what exactly you should bring on your long-distance bus rides near Chicago?
Since your luggage will be in the underbelly compartment in order to save the space inside the bus and provide more comfort to the passengers, you should know what to keep in a smaller bag with you during the entire trip.
Swift Charters' team is there to share with you 10 things you need to pack for long trips on a bus, so let's begin!
1. Thin Blanket and/or Large Scarf
AC isn't everyone's cup of tea, and some people get chilly very easily. While it's very difficult to guess which temperature inside the bus is the best for all passengers, a nice piece of advice is to pack a thin blanket and bring it with you inside the bus. In this way, even if you do get chilly, you can wrap yourself and be cozy while traveling. If you don't have enough space for the blanket, and you usually aren't cold but want to bring something "just in case," a large, soft scarf is the best solution.
2. A Bottle of Water
Well, this one is obvious, but some people forget it anyway. Keeping hydrated while traveling is very important because you share a small space with a lot of people, and hydration is one of the crucial things to take care of your organism. Bring a reusable water bottle with you on your bus trip, and refill it with fresh water whenever you have the opportunity.
3. Snacks
While it's true that during long trips you'll have occasional breaks for eating, toilet, smoking, etc. it's always the best solution to bring your own snacks on the bus and have something small for eating in case you get hungry. However, avoid bringing food that has a strong scent, or that's too heavy because it won't be a nice combination with traveling.
4. Comfy Clothes
When it comes to being as cozy as possible during the long-distance Chicago rides, you should make sure to dress comfortably. Unless you're traveling for business reasons and have a meeting as soon as you arrive, stretchy, soft clothes such as leggings, sweatpants, comfy t-shirts, and hoodies are always the best choice.
Swift Charters' buses in your vicinity are already super-cozy and enjoyable to drive in, dressing in stretchy clothes will only be a bonus. Having said that, you should also pack an extra outfit for any inconvenience that might happen. You may spill some water or stain your clothes with food. That's why packing extra clothes doesn't take up a lot of space, but it can be of big help.
5. Travel Pillow & Sleep Mask
Reclining seats that Swift Charters' features are always perfect for both short and long trips and offer the best support to your entire body. Why not make this comfortable place even better by bringing a travel pillow with you for additional neck support. For overnight bus trips, it's always recommended to try and get some sleep, that's where sleep masks come in handy. Bring anything that won't take up too much space, but that will provide the ultimate comfort so that your bus ride is as pleasant as possible.
6. Personal Hygiene Items
If something is a must for not only long-distance but also short-distance trips, it's bringing items for personal hygiene. Even though all Swift Charters' vehicles from the fleet are detailly cleaned on a daily basis and always in pristine condition, there are still going to be a lot of people in limited space, and that can be the cause of bacteria.
Before entering the bus, make sure you pack the following items:
Tissues
Hand sanitizer
Wipes
Toothbrush & toothpaste for long trips
Mouth wash
Contact lenses supplies
Travel-size makeup remover
Sunscreen
7. Entertainment/Technology

In order to make those long hours pass as quickly as possible, you should pack as many entertainment sources as possible. Don't go overboard and overpack because that can be an inconvenience, but make sure to pack enough not to be bored. Other than bringing an interesting book or magazine, you can also pack a tablet or smaller laptop, as well as the charges. Swift Chartes' buses feature free wifi so you won't have trouble staying connected and watching a movie. Don't forget the headphones as watching something without them is considered rude towards the rest of the passengers.
8. Documents
The best advice that Swift Charters' team of bus rental Chicago experts can give you is to dedicate one pocket/compartment in your bag for your documents only. Other than bringing your original ID and passport, you should also make various copies of those documents just in case you lose the originals or they get stolen. Also, keep them easily reachable and bring them with you on the bus.
9. Medications
You should have your medications packed in the luggage, too, especially if you're staying somewhere for more than a couple of days. However, some medications are a must to have with you on the bus as well. Make sure to pack motion sickness pills, pain reliever in case of a headache as well as antacids if the food you consume gives you any troubles. Of course, you need to bring the regular medications you generally use on a daily basis for a certain condition.
10. Weather-Related Items
If the weather conditions dictate it, you should also pack an umbrella, rain jacket, gloves, or any other item that will be helpful against rain, snow, sun, and wind.
How to Hire a Chauffeured Motorcoach in Chicago?
By relying on the best bus company in the area, of course! Swift Charters can provide the most efficient and comfortable long-distance bus services close to you, but that's not all.
If you rely on this team, you can choose any group transportation service that will accommodate your travel needs. From the professional executive bus rides Chicago to the most elegant wedding and prom bus rentals, Swift Charters has everything you'll ever need for top-notch and closest group bus rides.
Give us a call or book on the website and enjoy the most secure bus tours close by, airport shuttle services Chicago as well as sports event transportation in the vicinity. Swift Charters team is waiting for your reservation!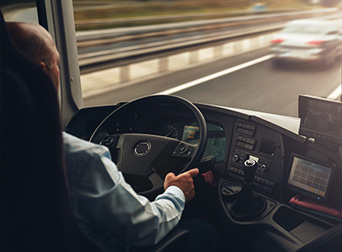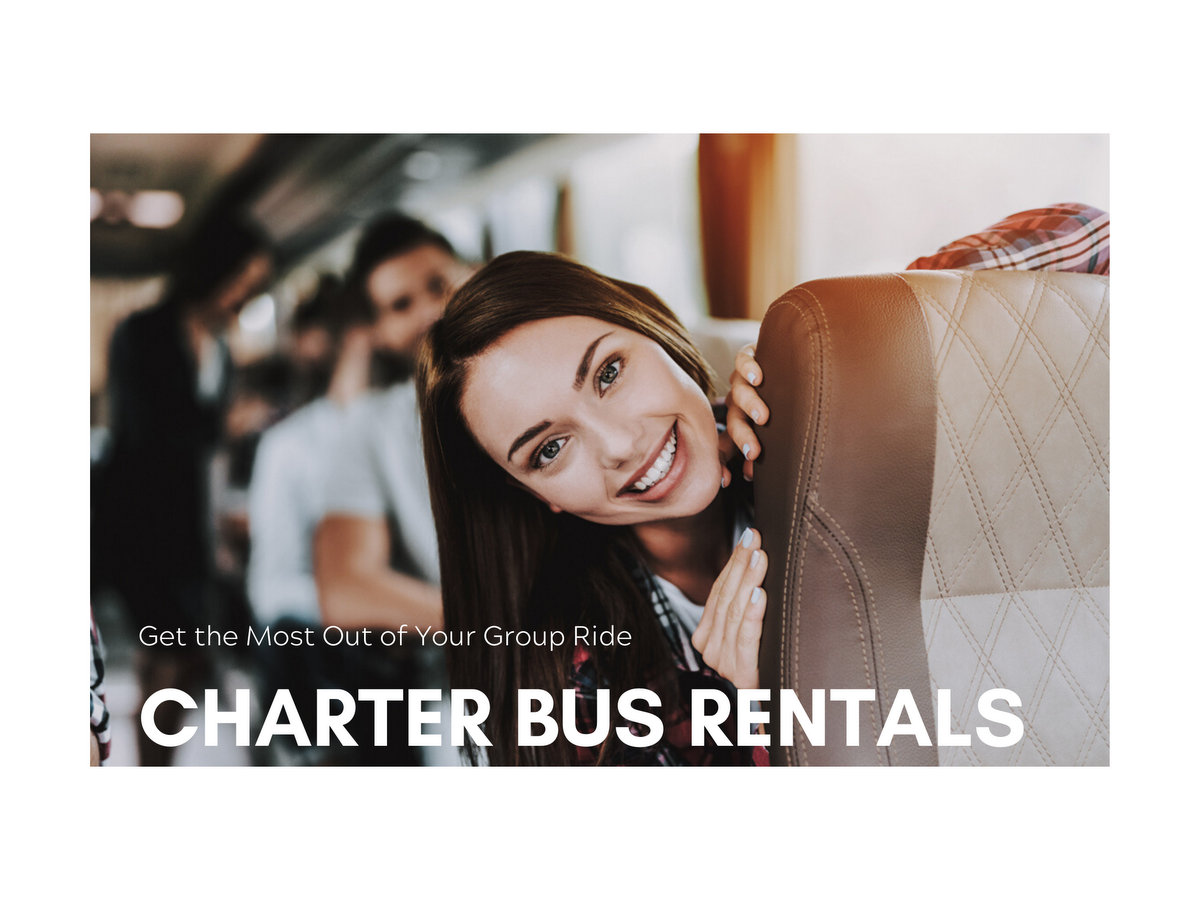 The Definitive Guide to Charter Bus Rentals
Do you have an upcoming trip? There are so many important things to take care of, one of which is getting everyone who travels with you safely to the destination. The classical way of traveling together might be carpooling or booking a plane, but there are so many things that could go wrong: a car might break down, run out of gas, you might get seated far from each other, or your luggage could get lost somewhere in the airport. Well, you definitely don't want that to happen, especially if you've planned a trip where you want to relax and spend time with your family or friends.
Where's the nearest bus charter service in Chicago?
If you're near Chicago and in need of a bus charter service, you don't have to look further. Swift Charters have a huge offer for all those that need a bus rental service that is efficient, quick, safe and affordable. Airport transportation, Chicago bus charter, or bus rentals, whatever you need, you can find it here. As experts in the field of Chicago transportation services, Swift Charters has compiled a complete guide to renting a bus charter for you and your loved ones.
What is a charter bus and what is it for?
A charter bus, or in other words motorcoach is a type of bus that is reserved privately for a group of people, whether it be airport transport, company, team-building, business trips, an organization, or a family outing. Charter buses allow you to plan the route yourself instead of traveling by a set bus route like you usually would when you travel by regular ground transport.
A charter bus is usually larger, has wide panoramic windows that you can look out from while traveling, has a lot of light, and lots of storage space for equipment and luggage. There are comfortable seats with overhead bins for personal belongings. Larger charter buses usually also have a restroom at the back of motorcoach, AC, as well as free WiFi connection available to all passengers.
Charter bus types and number of seating:
There are a lot of types of charter buses available, all of which are customized to fit the customers' needs. Some of the most popular ones besides the classic charter bus and the mini bus also include the party bus and the entertainer bus. All of the buses have a professional driver sitting at the steering wheel, making sure you don't have a single worry about your trip.
| BUS TYPE | PURPOSE | NO. OF SEATS | LUGGAGE SPACE | LAVATORY | RECLINING SEATS |
| --- | --- | --- | --- | --- | --- |
| CHARTER BUS | For large traveling groups. | 35 – 56 | ✓ | ✓ | ✓ |
| MINI BUS | For smaller traveling groups. | 18-35 | ✕ | ✕ | ✓ |
| PARTY BUS | More open space for activities (i.e. dancing, games…) | <35 | ✕ | ✓ | ✓ |
| ENTERTAINER BUS | For teams/bands on long distance tours. | <12 | ✓ | ✓ | ✓ |
Common Charter Bus Questions Answered
Am I allowed to bring food and drinks on a charter bus?
Most of the time, as it is with Swift Charters, food and drinks are allowed on buses. However, just to be sure, please check first with your bus company before the trip. It goes without saying that food and drinks with a strong scent should be avoided, for the convenience of other passengers. You also need to be careful not to leave any stains, spills or trash behind you because then you'd be liable for paying a cleaning fee. Most charter buses have a wastebasket, so make sure you collect any trash and dispose of it, or take a bag with you that you can use for trash during your trip.
Can I drink alcohol on a charter bus?
If you plan on consuming alcoholic beverages while on the ride with a charter bus, you have to ask in advance. Most companies in this case allow it, but ask for a refundable security deposit, just in case something happens and some damage is done to the vehicle. Please keep in mind that although the ride should be fun and enjoyable, safety is of the utmost importance to charter bus companies. No making a mess, and definitely – do not disturb the driver as you're putting all passengers at risk.
Can I bring my pet with me on a charter bus ride?
Charter bus companies do not allow pets in their vehicles, unless they are absolutely necessary. The exceptions that apply to this rule are of course service and emotional support animals for those in need, which are protected under the Americans with Disabilities Act.
Will I have enough space for luggage on a charter bus?
Charter busses have huge luggage bays that can hold your large items and/or equipment you bring. Make sure you don't pack too much and don't bring more than two luggage bags. Although there is a generous amount of storage space inside the bus, make sure you don't bring too much as it can happen that there won't be space left or you might have to pay an additional fee.
Can I go to the restroom while on a trip in a charter bus?
Of course. A lavatory is available to you in cases of emergency, but please keep in mind that they are not equipped enough for doing, well… The infamous number two. A bathroom on a standard charter bus is very small and has just a toilet and hand washing station. If you use it while the bus is moving, it can get a bit tricky. It's best if you use the bus's lavatory sparingly, and try to wait for a rest stop, or ask the driver if they can make a stop to the first next gas station.
Do charter buses near me have seatbelts?
Yes, bus charters are required to have seatbelts. The National Highway Traffic Safety Administration mandated that all new motor coaches be built with them. The Swift Charters fleet is fully equipped with seatbelts on every seat to follow the standard law and safety procedures.
Who drives the charter bus that I booked?
Like with Swift Charters, many companies offer their fleet coupled with professional drivers and chauffeurs. Unfortunately, you or a member of your travel group cannot be the driver of the vehicle. You can also book a professional driver to drive you around in your own vehicle if you want. This is the standard safety measure, similar to many other companies which offer the same services.
Can we have breaks during our charter bus trip?
When you book a charter bus trip, you should provide an itinerary with all of the addresses and times at which you find fit to have stops, pick ups and drop-offs. Additional fees will be applied only if you make last-minute changes that significantly use more mileage and/or time. Drivers at Swift Charters are understanding and some gas stations/short rest stops can be made in case some of the passengers need it, so don't worry.
When should I book a bus charter?
You should always book a charter bus at least one month in advance. This is to ensure the best rates, and you will have the time to create a proper itinerary and trip plan. Some months that are busier than others (like the second quarter of the year) require booking even a few more months in advance. With Swift Charters, last minute bookings are not uncommon, and certainly not impossible. You can have a charter bus booked and paired with you in a few hours at most.
What is the cost of renting a bus?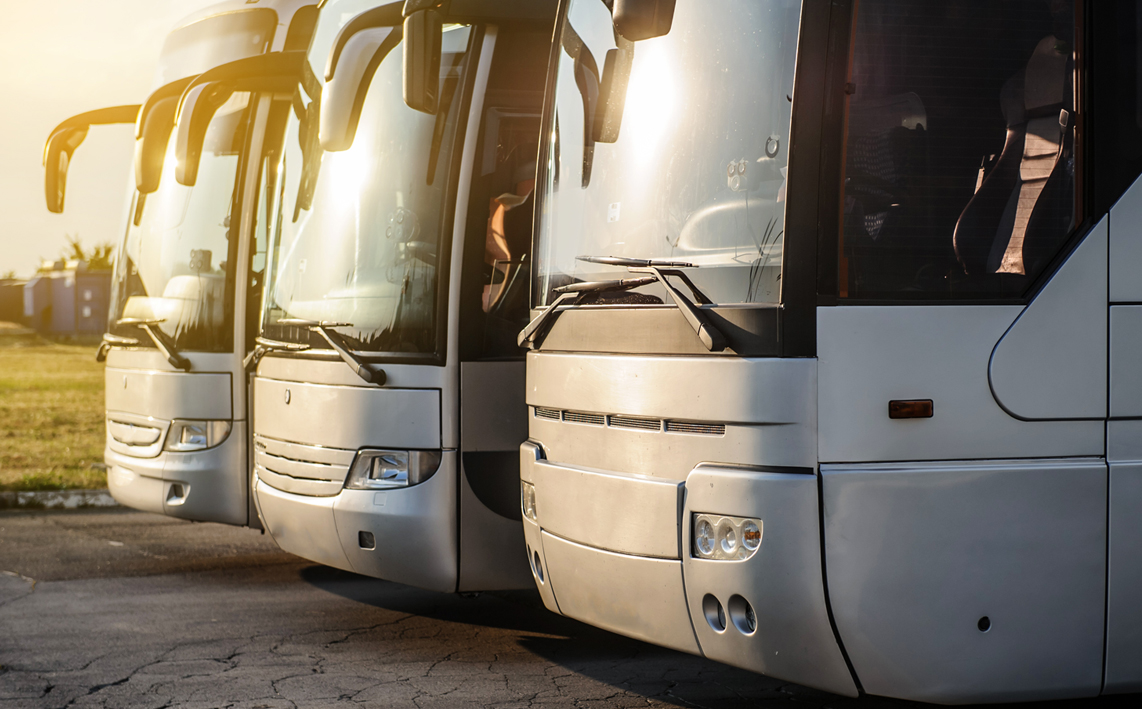 At Swift Charters, for example, you can pay a fee for a round-trip, or by the hour. Booking a charter bus in Chicago here is very easy, flexible and hassle-free. Rates usually depend on the type of bus you're using, as well as mileage, especially for long-distance trips. Swift customer support service is available 24/7, so, whenever you need any assistance, give them a ring. They will teach you all about the rates you can find offered on Swift Bus website.
How do I rent a bus with Swift Charters?
Before you call Swift Charters and ask for a quote, try to collect all the necessary information about your trip. A detailed plan can help you and your bus company to find the perfectly matching bus for your group. Things to keep in mind are:
Trip destinations
Pickup and drop-off times complete with addresses
The time the trip should start and an estimated duration
Number of passengers and if there are additional passengers that need to be picked up
Amenities that are essential to your group (lavatory, wheelchair accessibility, storage space)
And that's it! Leave the rest to your bus company, and just relax on your perfectly planned trip.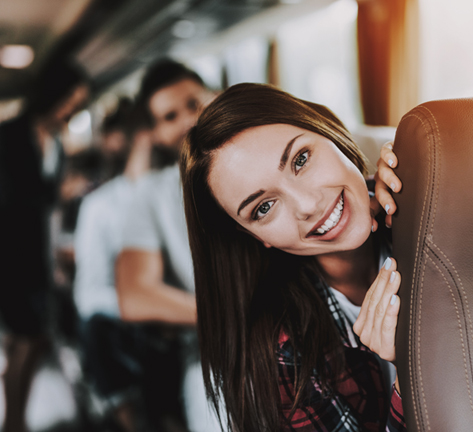 Hiring a charter bus Chicago is easy, especially if you rely on Swift Charters as your reliable "chauffeured bus near me" provider. No matter if you need a simple airport shuttle Chicago, or a comfy bus rental for overnight trips, Swift Charters' fleet offers comfort, safety, and efficiency.
What's really challenging about group trips is how to organize everything so that everyone enjoys each minute of the ride without stress, arguments, or any other unpleasant scenarios. That's why it's very important to make sure everyone on the bus follows certain rules in order to make both long-distance hourly bus rides and point to point trips fun, exciting and pleasant.
Swift Charters has decided to make this little list of 5 things that all passengers should avoid doing in order to get the most out of the comfiest buses in the area.
Print it out and pass on to your group or simply forward the link of this article, and have everyone know what NOT to do when traveling by bus in a group.
1. Being Late

Before speaking about the behavior while on the bus, it's essential to keep in mind one thing – if you're late, the entire group will be late, and then the entire organization of your trip may suffer. Make sure you are ready on time and that you show up when previously agreed. Waiting for too long can create a lot of tension in the entire group, and then the atmosphere on the bus may be too tense. Also, planning out a group trip is stressful and challenging enough, being late and off schedule will only make it worse.
Allow Swift Charters' logistic experts to arrange everything regarding the trip and respect the given timing if you want to enjoy the nearest bus ride to the max. Rely on the best bus and van rental company in the area, and your ride will surely be executed flawlessly.
2. Being Too Loud
Chatting with friends around you is completely fine and normal, that's the entire point of group travels – to have fun, hang out and bond while on the bus. However, speaking too loud so that it disturbs other passengers is unacceptable. Try to talk with the normal voice and make sure not to play the music too loudly because it can be considered rude towards the others.
While Swift Charters' fantastic vehicles already offer a bunch of fun amenities that make the trip pleasant, you may want to be aware of other people's preferences and respect if someone dislikes listening to the music while traveling. That's why you should mind the volume of your music when hiring a bus close by for your trips.
3. Bringing Stinky Food/Snacks

Long-distance trips require bringing some food with you. While you'll probably take breaks along the way and stop at gas stations where you can also eat, it's always recommended to bring some food or snacks with you as well. Having said that, it's important not to go overboard and bring food that can be easily perishable or stinky, such as cheese, tuna, eggs, and similar.
This can make any trip unpleasant, and for those with a sensitive stomach, it could cause nausea, which is not very nice. Go with the neutral food that doesn't have a lot of scents (for example, peanuts, sweets, pastry…), and riding on a van or bus in the vicinity will be enjoyable for everyone.
4. Keeping the Belongings Unorganized
If you happen to lose the belongings somewhere on the bus, you'll probably cause a lot of hassle while searching for them during or after the ride. Do you really want to spend hours searching for your stuff, and have others wait for you as you do so? Of course not.
Make sure you pack everything nicely and place the belongings under the seat, in the underbelly or overhead compartment so that you know exactly where they are. Luckily, Swift Charters' fleet features the closest charter buses in Chicago that have ample luggage space that can fit a lot of your belongings without a hassle.
This is very helpful for corporate bus rides in Chicago as well as group rides to sports events because Swift Charters' buses can fit a lot of sports props or anything else you may need.
5. Being Inconsiderate Towards Other Passengers
When traveling in a group, it's important to keep in mind that your behavior affects everyone else on the bus. That's why you should take everyone's comfort into consideration. Other than renting the comfiest Chicago charter bus, another way of making all the passengers feel comfortable is to respect everyone's space and peace.
Even though Swift Charters' vans and buses in the vicinity are spacious, comfortable, and clean, it's still a limited space that a lot of people share for hours. Be mindful of that when hiring a chauffeured charter bus in Chicago, and everyone's trip will be perfect.
Now that you know the most important things to avoid on a charter bus, it's high time you booked a "bus near me" / "van rental Chicago" / "bus service Chicago close to me" or any other group transportation in the area with Swift Charters.
The most comfortable trips are only a call or a click away – visit Swift Charters' website and see it for yourself!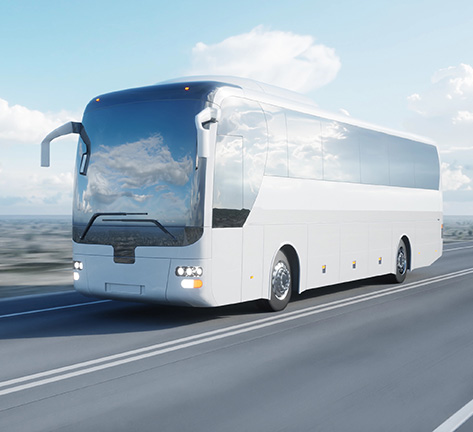 Planning a gathering in your company or taking your employees out on a trip, bowling, dancing, or similar? Successful Chicagoans know how to treat their colleagues and employees to a fun and enjoyable corporate party and team building.
And Swift Charters' team knows how to help!
There's more than one motive why so many business owners decide to hire the closest chauffeured bus Chicago not only for their airport shuttle in the area but for their workers as well. Not only is it an excellent chance for employees to become good friends outside of work but also riding on a comfy bus will help them be relaxed and happy.
If you're still unsure about whether or not you should hire a chauffeured ride in the vicinity for a group of people who work for you, Swift Charters has a few good reasons that will convince you to do it.
Here's why you should always rent a bus for your employees:
1. To Help Them Bond

Team buildings and corporate parties are the best way of having your employees get to know one another better and have a friendlier relationship. People spend most of their life at work, that's why a warm and welcoming atmosphere will make time in the company less stressful and more enjoyable.
Allow your employees to become good friends even outside the office and treat them to an enjoyable bus service Chicago. Having a great team of employees themselves, Swift Charters will go above and beyond to make every second of the ride perfect.
Whichever vehicle of the extraordinary fleet you choose, the people in your team will enjoy the nearest bus rental and become better friends along the way.
2. To Show Them You Care
Are you one of those employers who will expect the workers to give their best without rewarding them appropriately? Of course not! That's why you should consider doing something nice for them other than giving them financial rewards.
Everyone likes to feel appreciated, and you'll surely show your respect for everyone's work by renting a bus or van rental in Chicago for everybody in your company.
Organize daily transport or at least rent a charter bus on an hourly basis for your corporate gatherings. Your employees will feel amazing and respected, which will make them want to work harder and help you with your business endeavors, that's a guarantee!
3. To Encourage Them to Relax
Work hard, play harder! Only well-rested, happy individuals will make hard-working employees that have enough energy, ambition, and drive to help you grow your business. That's exactly why you organize team buildings and fun trips for them.
Make the experience complete by having a reliable ground transportation company in Chicago to support your transportation-related needs.
Group trips can be stressful to plan, but the Swift Charters team will make everything much easier. Your employees shouldn't feel under stress when traveling. Reserve a close-by bus or van on-demand and let them have a moment for themselves. Comfy, cozy, and spacious, Swift Charters' "bus rental near me" will be the best choice for a relaxed, stress-free journey.
4. To Make the Trip More Enjoyable

All the amenities that Swift Charters' vehicles have will make every trip fun and delightful. No matter if your employees need to travel to a destination that's 10 or 30 miles away, Swift Charters is there to make each ride equally pleasant.
Organize a sporting event, rest assured that your overnight trips will go smoothly, surprise your employees with a comfy wedding bus rental nearby if you have a colleague's (or your) wedding coming soon. Swift's team of transportation experts is there to impress.
5. To Get Them to the Airport on Time
Making plans for a work trip to another country? Swift Cars provides the most reliable and punctual airport shuttle Chicago to any airport in the area. Stop worrying about:
How to find a bus to O'Hare?
How far is Midway airport from my current location?
How much for an airport bus ride in Chicago? or any other similar question.
Your employees will arrive on time to catch a flight and won't have to worry about cruising through the hectic Chicago traffic.
Book your executive group rides in the area with Swift Charters and become one of Swift's satisfied clients no matter where in Chicago you need to travel to. Whether you choose to book by contacting Swift's kind customer support or by filling in the info on the website's booking widget, expect an easy and simple reservation process as well as prompt and dependable Chicago van and bus rides for your employees.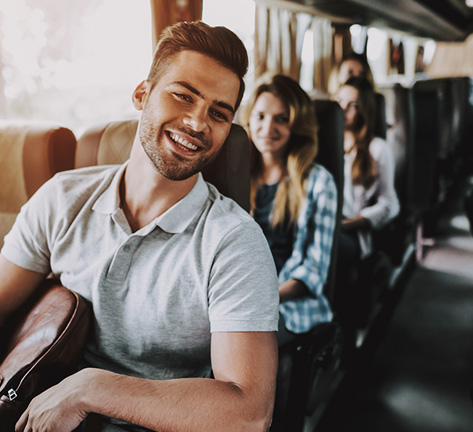 Welcome to the Windy City! The place of breathtaking nature, exceptional parks, fantastic architecture, super-delicious food, and much much more. You'll fall in love with Chicago the minute you arrive there.
But first, let's take care of your airport transportation Chicago so that you can arrive at the hotel in comfort, ready for the adventure. Swift Charters will be your number one bus rental Chicago provider and take care of your group rides in a matter of minutes.
Traveling in a group is always a bunch of fun, but it can be challenging, especially when it comes to transportation. Give Swift Charters a call and the questions like "How to find a ride from O'Hare to the hotel?" or "Where can I find a bus for groups in Chicago?" will stay in the past.
"Can I prearrange my airport pickup?" Of course! Talk over all details with Swift Charters' friendly team and have a van or bus wait for you and take you to the desired destination. An outstanding fleet of vans and buses with ample luggage space is there to satisfy all your "chauffeured bus near me" demands.
Now that you know who to call when in need of group transportation options in Chicago, let's make a list of "must-see" places that every first-time visitor (and not only!) should visit in order to experience the real Chicagoland.
Let's dive in!

1. Enjoy Chicago Architecture River Cruise
You must have heard about how famous the Chicago architecture is! Don't miss out on discovering the city's marvelous buildings, skyscrapers, and impressive skyline from many angles. Buy a ticket for the River Cruise and enjoy while learning more about the history of Chicago architecture from the experienced architects that will be your guides. See the most popular buildings from the Chicago River's all tree branches and find out more about Wrigley Building, Trump Tower, Marina City, and other important Chicago landmarks.
This River Cruise tour is always super-fun, and it lasts for about an hour. And once you're done exploring the architecture while on the Chicago River, make sure to book a bus tour Chicago with Swift Charters. Discover other, under the radar, landmarks that can't be seen while on the cruise. Being the best and nearest bus and van company in Chicago, Swift Charters will make the city tour pleasant, smooth, and safe.
You can even book an hourly bus ride nearby with Swift Charters. Have your assigned chauffeur take you to Chicago's First Lady Boat Dock, wait for you while you're on the cruise, and pick you up as soon as you get off the boat.
2. Visit the Skydeck
The 103rd floor of the Willis Tower is the highest point of Chicago and attraction to many visitors as well as locals, and it's popularly called the Skydeck. From there, you get to enjoy the beautiful panoramic view of the entire city. It features many interactive, fun exhibits (that allow you to learn about the history of Chicago) and a glass balcony, the Ledge, where you can enjoy the view and admire the skyline.
"Where to find transportation to and from the Skydeck Chicago?" Right here on the Swift Chartes website! Gather your friends and family, and instruct your Swift Charters chauffeur to take you to the Skydeck – the entire trip will be enjoyable, that's a guarantee!
3. Have Fun at the Millennium Park

Millennium Park is probably Chicago's most famous place that gathers many people year-round. Not only is it a fantastic place in nature where you can escape the exhausting city and traffic jams, but it is also the home of many annual festivals, concerts and art exhibitions. While you can admire a few impressive art pieces during the entire year, such as Anish Kapoor's The Bean and Jaume Plensa's Crown Fountain, you can also enjoy the art exhibitions on the Chase Promenades as soon as the weather becomes warmer.
Book your bus Chicago to the Millennium Park with Swift Charters and enjoy nature with your loved ones. You'll definitely find a bunch of fun activities there, experience the real Chicago atmosphere, and meet some friendly and kind Chicagoans. Having your closest Chicago bus and van rental will be of great help no matter where in the city you happen to be!
4. Meet Adorable Animals at the Lincoln Park Zoo
"How far is Millennium Park from Lincoln Park Zoo?" is the question that shouldn't worry you now that you have Swift Charters as your reliable chauffeured ride to and from the Lincoln Park Zoo, and not only. You don't even have to know the exact address of the Zoo because Swift's drivers already know it very well! Book us and expect to arrive there in no time and in utmost safety.
Lincoln Park Zoo is the home of more than 1,200 lovely animals that are waiting for your visit! Learn more about animals from all over the world and keep them company with your friends and family. No matter if you're looking forward to seeing zebras, flamingos or snakes, Lincoln Park Zoo is the right place for you.
5. Explore Numerous Museums and Galleries
Whether you're a leisure traveler or business person who decided to treat the clients to a Chicago visit, museums and galleries are always an excellent choice when in the Windy City. Why? Because Chicago prides on its well-done museum exhibits and marvelous art pieces. You will probably need a few days if you want to visit all of them, but if you don't have that much time, here's what you should visit:
The Art Institute of Chicago
Museum Of Contemporary Art Chicago
The Field Museum
Adler Planetarium
Chicago History Museum
As anticipated, you can count on Swift Charters to take care of all your group rides to and from Chicago's museums and galleries.
Activate the voice search on your smart device and ask for a "bus in Chicago," "van rides near me," "Chicago bus rental in the vicinity," or something similar. Finish the entire reservation on Swift's website, where you get to choose between fantastic available vehicles that will accommodate both small and larger groups. Enjoy comfort, safety, and kindness when booking your bus rides in the Chicago area with Swift Charters!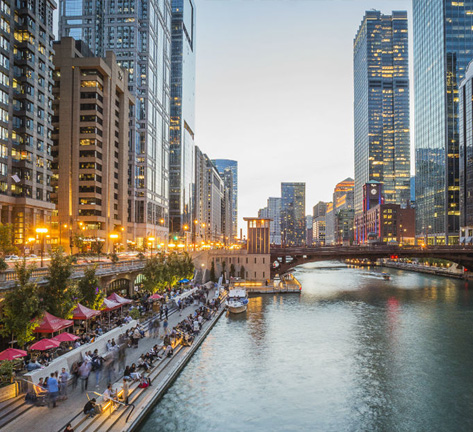 Fall is the favorite season for wedding parties. That's why this October's blog should be dedicated to wedding bus rental in Chicago! There isn't a more romantic way to say yes to your soulmate than with the beautiful fall sunset in the background and in front of the people you love. Although the wedding organization is stressful, it's also fun and, in the end, it's all worth it. There are many details to think about, of course, but it's important to remember your guests' comfort matters. On that note, you need to make sure that their arrival at the party is taken care of as well.
You already know that Swift Charters is the best bus company in Chicago that will gladly drive your guests from their hotels to the venue safely and in style. Don't miss the opportunity to book a wedding bus nearby with Swift Charters and treat your guests to the best bus ride in the area. Now that you know where to find a bus rental in the Chicago area for your big day, it's important to decorate it in order to provide the best wedding experience for your guests.
Why Should I Decorate Wedding Bus Rental?

Because your wedding celebration starts as soon as your guests enter the bus, and that's a fact. Even if you don't decorate the bus, your guest will appreciate the convenience, of course. However, they will be even more surprised if you do it, and they will experience the complete theme of your wedding right away. Why not match the bus to your wedding aesthetic and have some fun while doing it? It will help you forget about the stress of the wedding organization for a little bit, that's a guarantee.
Swift Charters' buses and vans already look elegant and classy on their own, but you're welcome to decorate them however you want. The best bus rental close to your location stands by to assist you with any request regarding your guest transportation. Prompt, elegant, and safe rides are a must at Swift Chartes, not only for your wedding day but for any other group transportation near Chicago as well. Call now and book your bus ride with Swift Charters.
How to Decorate Your Wedding Bus Rental
A disco ball on the ceiling is not the only way of decorating your wedding bus, but you probably already know that. Although everyone imagines party buses when thinking about group bus rides, you can decorate your wedding rental however you want. The best option would be if the interior of the bus matched the entire theme and aesthetic of your entire wedding because that will provide the best wedding experience for your guests. Think about the style of your wedding – is it traditional or more hip and funky? Whichever the answer may be, try to match the wedding bus rental decoration to the overall idea.
Lightning Matters
One of the simplest options when it comes to your wedding bus decoration is to add fairy lights and create a warm and calm atmosphere inside the bus. The lights always look classy and are also widely used as venue decorations because they provide the easiest way of stepping up your decoration game without trouble.
If you're someone who has a simplistic, classy taste, fairy lights in warm white-yellow color will be a perfect choice. Make your wedding bus rental close by feel cozy and your guests ready for a classy and elegant wedding. Are you opting for a more funky wedding party? Use colorful lights that will make sure your guests become cheerful and ready to party as soon as they enter the bus.
Good Old Balloons and Banners!

Swift Charters' vans and buses near you are so elegant that you'll be able to combine balloons of any color with the bus aesthetic. What's the color palette of your wedding? Why not try to combine those colors with the balloons as well and make your wedding bus rental in the vicinity stand out? Don't forget to add some fun banners as well. You can either go with a safe choice of "Just married" or make your decorations more personal and customize your banners with the overall experience. Banners and balloons are never a mistake and offer many options when it comes to decorating your nearest bus and van rental for your wedding.
Flower Arrangements Are a Must
There's no wedding without beautiful flowers, of course. As you can imagine, there's an unlimited number of possibilities when it comes to flowers. That's why you should use this convenience and order a couple of extra flower arrangements for your bus rental as well. Your guests will feel much better with a bit of nature inside the bus, that's a guarantee. There's nothing more enjoyable than having fresh flowers around you – it's an instant happiness booster – try out, and you'll see it's true!
Don't Forget the Exterior!
After you're done decorating the interior, it's time to give some attention to the exterior of the Chicago bus rental as well. If the weather allows you, you can decorate your wedding bus rental exterior also with some fresh flowers, banners, balloons as well as bus wraps, if you want to be extra! Don't be afraid to get creative and decorate your bus however you want – your guests will appreciate the effort.
The Best Wedding Bus Rental in Chicago with Swift Charters
Wedding bus rental may seem like a little thing, but once you take care of your wedding guests' transportation, you'll feel much more confident and stress-free. Book your wedding bus in the area as soon as possible, have one less thing to worry about, and concentrate on other, time-consuming wedding tasks. Rely on Swift Charters when thinking about "how to find a bus rental in Chicago?" or "how to book a wedding bus near me?" – this incredible team has got you covered. Allow us to have a role in your special day and make the organization a bit less stressful. Renting the closest group bus with Swift Charters for your wedding day is a decision you'll never regret. Make your reservation on the website or contact friendly customer support for more details. Have a perfect wedding with Swift Charters by your side!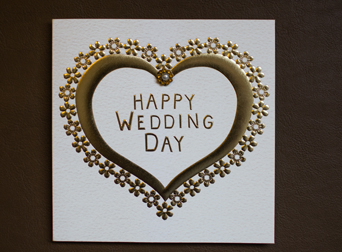 Everyone needs to get away sometimes (or, too often!) but is there always enough money to do it? Unfortunately, there isn't. However, despite the budget difficulties, one shouldn't deprive themselves of taking a step back and going someplace that feels, well, just right. But, how do you pull off a trip without sufficient money on your bank account? By strategizing your budget to fit your desires.
Read more: How to Understand the Difference Between a Bus and a Coach Bus
If you aren't that big on budgeting for travel or aren't sure how exactly to do it, here are a few tips that will help you save money for your upcoming trip.
Luckily, there are great ways to save money for your trip without having to sacrifice much of your current luxuries. If you're trying to save some money for your upcoming trip, here are a few tips to help you out.
Make a Money Jar

Obviously, it doesn't have to be a jar, but it does have to revolve around saving money. Depending on your overall budget, set a specific amount aside that you'll be storing away every month. Before a new month begins, leave the promised amount aside so that you don't find yourself in a situation that you don't have enough money to save. If your budget allows it, add a little change to the jar every week, as well. Anywhere between $5 and $20 will work. You wouldn't believe how quickly you'll get some extra money from that!
Read more: Wedding Logistics Made Simple with One Swift Move!
Find Low-Cost Ways to Travel
Traveling domestic routes usually doesn't require/need any airport transportation plans, which means saving money from the get-go. True, you'll get to your final destination slower than you would traveling by plane, but you'll also save a lot of money and get to spend fun time on the road! If you are traveling with a larger group of people, consider charter bus travel with Swiftcharters as your best and most affordable option. Why use a charter bus rental for group travel, anyway? Booking a charter bus nearby is not only a great way to stay on the budget (and spend a little extra on your vacation!) but also a perfect opportunity to make memories as you bond with your friends/family that are traveling with you! Oh, and – you know what? If you are traveling with friends, you can suggest you split the cost of your charter transport and voila! Win-win!
Tighten Your Belt Now
On a budget and looking to save money for travels? Well, you'll have to adjust a bit! As much as impulse buys and eating out seem great, if you want to have enough to travel someplace lovely, this is the time to tighten your belt. So, next time you are going shopping, stick to the list of necessary things to buy and don't stray from it! Also, train yourself not to get into that "I MUST HAVE THIS" vibe because that mindset will kill your wallet.
Read more: What You Should Bring on a Charter Bus Trip
Choose Cheaper
Depending on your destination and your time of travel, you can get deals much less expensive if you book them pre-season. So, if you know where you want to go, book your accommodation on time and you'll save a hefty chunk just by being smart.
Is taking a charter bus better than flying? It is! So, if you are all about traveling these days but still want to save up a chunk, you know what to do – call +1 312.762.5333 and book your swift charter near me today!

Affordable, economically sound and sort-of kind to the Mother Nature (riding in a group is far better than riding in private cars separately, to the same location (fewer carbon emissions, right?)), everyone relies on the comfort of nearby buses to take them places. Other than the metro, buses are the most popular form of local transportation suited for both kids and adults. But, what usually happens is that people can't really understand what is the difference between a coach and a bus since they look similar, offer a similar type of service, and are most often just as convenient. The rates also vary, very little.
Given that these two terms are typically used interchangeably, Swift Charters team has decided to set the record straight and help you understand where the line between the two is drawn:
What type of services do coaches offer? And buses?
While buses usually operate as an everyday, regular service running on a schedule, coaches are a more luxurious option. Buses are dropping off and picking up passengers at various locations that are fixed while coach buses in the vicinity have the option of changing directions per passengers' requests and needs. Also, coaches don't make frequent stops unless asked explicitly from the passenger (i.e., the customer). When referring to privately owned charter buses or buses, both offer similarly comfortable services, customizable per your expectations, needs, and requests.
Read more: Why Use A Charter Bus Rental For Group Travel?
How do coaches and buses differ in terms of comfort?

Buses are spacious and comfortable travel options, but they don't have the same comfort coaches provide. Since coaches are usually rented/booked for longer journeys, they often feature toilets, air conditioning, DVD players (or systems alike), and in some cases wireless Internet access. In terms of luggage space, coaches tend to feature cavernous luggage compartments under the passenger area, providing ample space for extensive passenger gear. Buses rarely have any extra storage room or amenities. What is more, unlike buses that usually have two- and three-seat bench-style seats, coaches have comfortable, often large plush seas that are super comfortable and spacious. Are coach bus rentals more expensive than buses? Yes, they are more expensive than buses due to the type of comfort and ease of travel they offer.
Read more: Is Taking a Charter Bus Better Than Flying?
Is it complicated to book a coach bus near me?
When you are booking with Swift Charters, no reservation is complicated or drab. It doesn't really matter whether you are booking a charter as part of Swift's corporate service, airport service, whether you are looking for a prom charter in the vicinity or an overnight trips arrangement, everything can be easily arranged. Give Swift Charter a call +1 312.762.5333 to book a charter nearby or go through the website. There is also the option of contacting us via email, at info@swiftcharters.com.
Swift Charters has proven as Chicago's most excellent charter bus rental company nearby, so count there'll be no glitches in sight. Do make sure, however, to book a charter on time so that the agents can make proper arrangements promptly. The moment you've got your schedule sorted and are positive on the number of people you'll be traveling with, Swift Charters agents and logistics experts will be there to put things into works.
How to Plan a Charter Bus Trip?
Planning a charter trip is similar to planning any other tour of a similar type, with a few variances along the way. With years of experience and countless customers that have enjoyed the comfort of nearest Swift Charters buses and coaches, here are a few things we'll say are essential for a well-planned charter bus trip (on your end):
Read more: What You Should Bring on a Charter Bus Trip
Know Where You Are Traveling

Decide on the destination before you give your preferred charter bus company a call. Even if you are more casual about your travels, in a sense that you'd want to go on a road trip with no particular destinations to see or fixed timetables to follow, it's essential you know your directions. That way, your chosen company will have an idea of how to organize the best traveling routes, and you'll have a journey that's compact and makes sense.
Decide on Date to Travel
If you've got a wedding to attend, an important business meeting, special occasion, game, etc. to attend, you must be aware of that date and distances to your final location. So, work your schedule around fixed dates. You can give yourself a day or two to arrive at the destination before the event (if you want to look around, enjoy the space, rest, etc.) or you can organize everything to arrive on time for the event. In case your travels don't have any fixed dates, be flexible about planning but do have in mind what dates make the most sense for your overall journey.
Usually, coach rental companies allow coach reservations up to one or two months in advance, so have that time frame in mind as well.
Book Service of Reputed Company
The best way to find a charter bus company nearby to book with is to give a few charter websites a chance, compare the conditions and prices, and then decide. Once you've listed out and compared rental requirements, you can decide on a company.
Swift Charters has a long-standing tradition, numerous happy clients and a fleet of charter buses and regular buses that don't leave anyone indifferent. Traveling conditions with Swift Charters have always been class A, giving passengers the option to customize them per their own desires. Give us a call and see why Swift Charters is the best Chicago charter bus company in the area!

It doesn't matter if you admit it or not, weddings are the kind of endeavor that gets to us all. No person alive is indifferent to wedding bells, vows, and love that goes into a future filled with potential and romantic longevity. Some people love it, some people hate it, but did you ever encounter somebody who was just like "meh, whatever"? Exactly!
So, as the spring slowly comes to town (just a few more days, guys – this winter was a hard one, but it's nearing its end), you all know what that means – wedding season is upon us! And to make things a bit easier for both – wedding haters and wedding lovers alike, this charter company has one awesome idea. You know us well enough to presume that this proposal will involve some kind of the best luxury bus rental services near Chicago, right? Everyone up to speed? Ok, let's roll!
Read More: How to Choose the Perfect Bus Rental Service in Chicago

Why Is Chicago Wedding Coach Service near Me an Optimal Option?
Oh, don't get us started! Regardless of your skillful wedding planning, it's easy to forget some of the most important things unless you work with teams of professionals!
Between venue scheduling, outfits, flowers, food arrangements, and all that jazz, it is not unusual for the comfort of attendees to get overlooked. And after all said and done, you're doing this to celebrate love with all those near and dear to you, right? In all fairness, sappy romantics and annoyed wedding-skeptics that RSVPed both deserve to enjoy the whole shindig to the fullest. Let's improve the likelihood of that happening, shall we?
Take the transportation off the list of things you have to worry about! Just think how awesome would it be *not* to worry about how to get to the venue(s)! Or not to get bothered with questions like "Will my dress/suit get wrinkly?", "Will I be all sweaty when I get there? " or "I want to drink, but then, how will I get back home or to my hotel?".
One Swift move, (dare I say Swift call) and Chicago wedding tour bus rental nearby could put all those worries to bed, and lay optimal conditions for everybody to have the time of their lives!
Read More: 4 Tips on How to Survive Holiday Get-Togethers with Your Family
The Closest Airport Bus Shuttle Rides Available for Everybody!
If your family and friends plan on flying in from all over the country (or even the world), a luxury bus rental near the airport ready to pick them up when they land will be a godsend! Truly! Why have them chase after taxis, arrange car rentals or figure out public transport themselves, when you can arrange everything with the most exclusive wedding shuttle in Chicago! For all of you Chicagoans, having an arranged transportation may seem like a welcome but not so necessary detail, but for out of towners – airport transportation charter Chicago near my area could be a lifesaver, in times like these! Have us pick them up at the O'Hare, Midway, DuPage airport, bus station, train station, or anywhere else you choose as the desired pick up location, and take them where the magic's at.
P. S. While on the subject, did you know bus charter rentals are better than flying? Yeap. Go figure.
Read More: Group Travel Like You've Never Seen
What About Chicago Hotel Shuttles?

After all, a lot of hotels provide free shuttle services for their patrons, why would you spend your hard earned cash on that? Well, there's a catch. Actually, there are two of them:
• Hotel shuttles can only get you so far, literally! Most of them offer their shuttling service in 3 to 5-mile radius of the hotel itself, and what's the likelihood of your reception & ceremony being in that range? Exactly!
• Hotel shuttles are there to accommodate *all* patrons of the hotel in question. So unless your guests take all the rooms, you'll have to remember that a lot of people using the hotel's shuttles sadly don't consider your wedding itinerary a priority
So, does this answer your question Why Swift Chicago bus charters near my location is the best option? It should! Seriously, think about it:
• You'll know you have an experienced driver with a deluxe bus on call who can accommodate you and all other travelers on a moment's notice
• Since adhering to wedding schedule is of utmost importance, this option will guarantee safe and timely arrival of all the people involved
• All the guests will love this gesture as it will give them a chance to enjoy the event fully
Honestly, among all other things that can happen on your wedding day, do you really want this to loom over your head, too?
Read More: Why Use A Charter Bus Rental For Group Travel?
Ok, you got me. But…
What About the Price of a Chicago Bus Rental Close to Me?
Yeah, they lure you in with talks of comfort and sensibility and then they show you a price tag that will make your budget beg for mercy. Well, it's not like that with Swift Charters! Whether you are going for an hourly Chicago charter bus or point to point motor coach for rental, your quotes will always be economical!
Swift prices remain fantastic when it comes to corporate outings, prom rides, and sporting events, (including Notre Dame Games Packages), too. So, feel free to contact us when it comes to those options as well. Let us show you that not all amazing bus transportation amenities have to cost you an arm and a leg!
Choose one of the best Chicago Bus Companies Near Me, to give all the wedding attendees a piece of mind. Let's kick things up a notch, with united forces.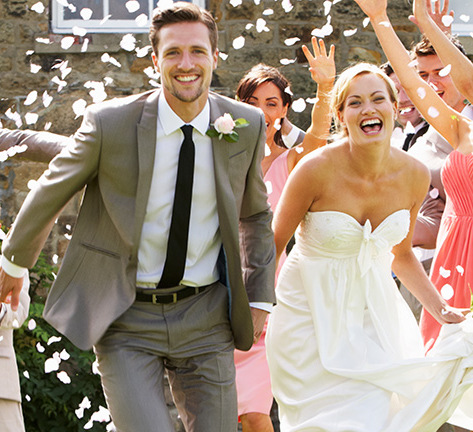 These days, everyone's in a rush to get places, as quickly as possible. There's very little time for relaxation, doing fun things with those you love, taking vacations, not working after work, and all that. So, when chance hits and you actually get the opportunity to go travel somewhere, you are bound (well, hopefully, you are!) to choose the best stuff there is, right? Aside from selecting the hottest destination you can think of, replacing potentially uncomfortable traveling options with those that leave you feeling relaxed, thrilled and enthusiastic about what comes next is a 1/1 advice for enjoying your downtime to the fullest.
Got all of your people together and ready to hit the road? Great! Now call Swiftcharters by dialing +1 312.762.5333 to get your charter bus rental on time!

Why Book a Charter Bus Instead of a Plane?
You wouldn't be the first one to wonder if taking a charter bus is better than flying. Planes are great and very efficient, but they lack that crucial element of fabulous road trip experiences – togetherness and fun! Charter bus rentals near my location are the best option for large groups of people traveling together and wanting to create some on-the-road memories.
So, if you are traveling with a bunch of your friends, family members, business associates, etc. and you are embarking on an overnight trip, corporate gathering, fundraiser, sports event, or elsewhere, a charter bus rental is what you need.
OK, You Got My Attention. Tell Me More…
When you book a charter bus, you get so much more than you can even imagine. It suffices to say that hiring a charter bus service Chicago means more comfort during travel (no more of that "What should I bring on this trip so everyone has enough space for their luggage?" drama) and reduced stress because those two are charter bus benefits as old as time. Let's talk about those extra elements why charter bus rental is great for group travel, and then see where you stand.
Here's what you may want to know about close by charter bus travel:
Charter Buses Are an Environmentally Friendly Travel Option
The good thing about trends is that they sometimes catch something significant, like care for the environment. Until recently, very few people had any awareness of what's going on with our beautiful Planet Earth, but things are gradually shifting. It feels like more and more people are paying closer attention to the statistics and trying to participate in reducing waste and becoming more environmentally-friendly! Wo-hoo!
If you are one of the people who cheers our Planet's long life, you'll want to book a charter bus.
Just, picture this: X cars of your friends are going to the same location as you are. Each of those cars is contributing to an increased pollution rate. The solution? Travel together in a SINGLE vehicle and be responsible for reducing the carbon footprint for at least a degree! One charter bus has the potential of taking over 50 vehicles off the road which is fantastic – not only for reducing emissions but also for alleviating traffic congestion. Here's another interesting information: compared to other transportation methods, charter buses emit the least amount of carbon dioxide per passenger mile. Now, if that's not a deal breaker, what is?
Read more: The Most Dangerous Bus Roads in the World
You Get A Permanent Designated Driver
When people travel in groups, there's always that dull talk about who gets to drink tonight and who gets to drive back from the event, right? Blah, everyone hates that. The good news is, you don't have to sacrifice your good time for the sake of taking the title of a designed driver for the night! Instead, you and your whole group should have the best time, not thinking about your ride back! But, that's irresponsible? No, it's not. When you know someone professional, ready (and sober!) is waiting for your event to end so they can take you back to your place of residence safely – everything's an option.
Whether you're going to a bachelor or bachelorette party, a wedding, prom, traveling to a hot destination, or just feel like having a good time, everyone will be able to have the best time and enjoy, without having to worry about the ride back.
Everyone Arrives at The Same Time

Seriously, is there anything as stressful as having to wait for the rest of your group to arrive just because they were left with no gas, took the wrong exit, got stuck in traffic, or decided to take a nap!
To avoid such group-travel inconveniences, book a nearby carter bus Chicago and put a stop to all these hassles. With all of your gang comfortably seated in a charter, you all get to follow the same on-the-road dynamic and arrive at the same time! You know what that means? Starting that fun-wagon sooner than later!
Read more: See Chicago in a Charter Bus
These and plenty of other benefits are what makes group traveling great. Interested to know how to rent a charter bus Chicago? Great, just give us a call! Talk to the friendly charter specialists about renting a charter bus near me for business conventions and meetings, sports events, weddings, destination trips, to-and-from the airport rides, and so much more. Your group travels matter, and Swiftcharters is there to make them unforgettable!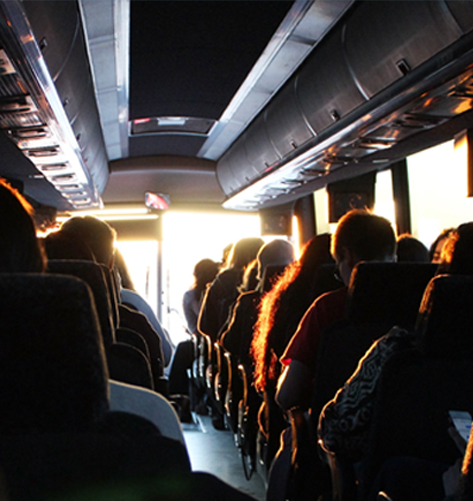 Keep in touch wherever you go