BLOG | October 11, 2016
As much of a nightmare a family vacation in a car can usually be, group travel hits its all times high during the summer every year. Families and groups of friends get in their cars to escape city rush and head out on a road trip to a beach or mountain or wherever one may find relief from the summer and summer heat. Often, these experiences make for the most beautiful experiences in one's life and they should be cherished dearly.
Group Travel and Road Trips
But as much as group travel and road trips are fun, they do have a few problems that can ruin your fun and enjoyment. Someone needs to drive, and usually you have to take long shifts. People can get bored in the car. Sure, you start all hyped up and you have your I-pod and you are ready for the road but a couple of hundred miles later that enthusiasm might give way to boredom restlessness and anxiety, which in turn can lead to the famous fights that so many families experience on a long road trip.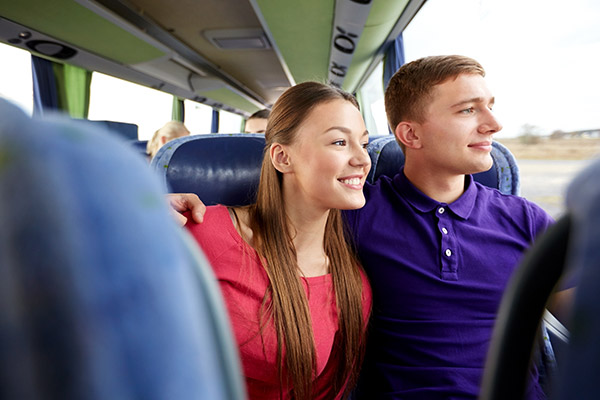 Getting a professional transportation bus will free you of all of these problems and give you tons of other perks as well. If you rent a luxury charter, chances are it will be bigger than your car and therefore – more comfortable. They have televisions surround sound DVD player, room to walk around, bars, comfy chairs with all the leg space you never even dreamed off. You don't have to drive, worry about your route or traffic since there is a highly skilled professional in charge of anything that has to do with minding the road. All you have to do is relax as you go along and not let stress overtake. The fact that traveling by car is one of the most dangerous forms of ground transportation and that charter buses are the safest form is yet just another benefit of this ground transportation.